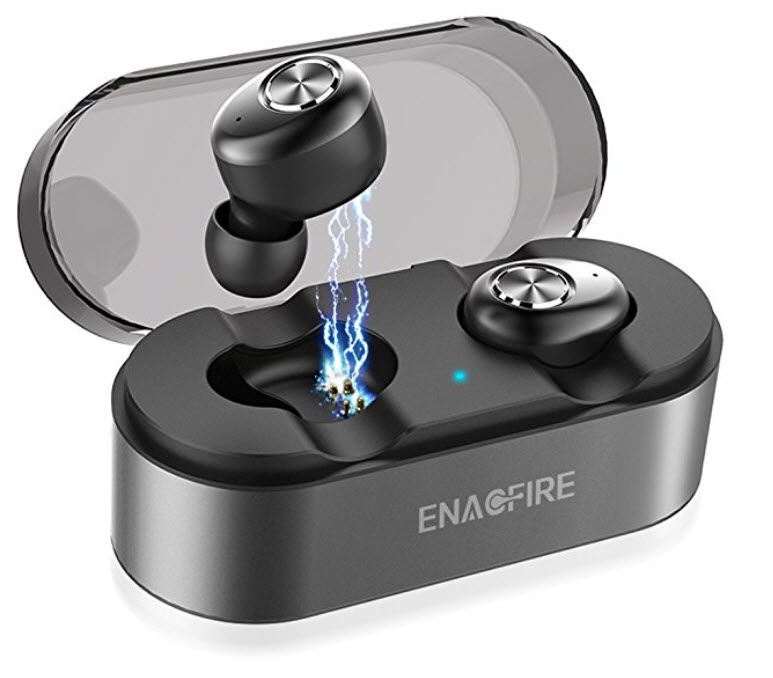 EnacFire E18 are the best wireless earbuds with Bluetooth 5.0 under $50 you can get. I've been testing these for more than 3 weeks now and I'm more than happy with these.
Design
I really like the design and the color of these earphones. I'm definitely a fan of the cleaner kind of matte stealth look for a lot of techs. I'm not a fan of brighter colors so these do really appeal to me. You can see they do have a little sticker underneath so make sure you pull these off and get these things charging in my usage.
Charging And Playtime
I've got about 3 hours of playtime with the earbuds on a full charge you can recharge them between four and five times from the case itself. I got about four charges which makes them 12 hours of playtime in total.
On the overall design for these earbuds in my short testing seemed pretty robust. They fit nice and snugly in the case. This is often a problem when I've used headphones of this nature where they have these little carry cases and they often don't fit very tightly. Sometimes they don't even charge properly. These seem to fit nicely and I didn't have any problems with them not charging. the only thing I wasn't too keen on is the LED indicator which indicates the charge status of the earbuds.
What Does The Blinking Mean?
You basically get a blinking system one blink indicates 25% and it then goes up to four. It is a little bit of a basic method and it's not my favorite way of showing the battery percentage but at least you can tell what charge they're at.
Packaging
The package contains the wireless earbuds ENACFIRE E18 and the charging case. You also get your micro USB charging cable and some spare earbuds. You want to make sure you're wearing the right size, so these don't move around and fall out of your ears if you're doing any sort of exercise.
Packaging In Detail
2 x ENACFIRE E18 True Wireless earbuds
1 x 500mAh Magnetic Charging Case
1 x USB tо Micro USB Charging cable
3 x Couples Silicone Ear Tips (S, M, L)
1 x User Manual
1-Year Manufacturer's Warranty аnd 30 days no-questions-asked return policy
Pairing
Pairing these earbuds with my phone was probably one of the easiest experiences I've had with these type of wireless headphones.
Once I removed them from the case they connected to each other and you can see the main earbud starts flashing. You then simply connect to the earbuds via Bluetooth on your smartphone. Putting them back into the case turns them off, which is really handy. Next time you remove them from the case, they turn on and pair automatically.
Audio Quality
The audio quality on these ear pods, in my opinion, was pretty good with a decent bass and volume level. But please bear in mind these aren't gonna compete with really high-end earbuds that cost more than $100, but for this price, they sounded pretty clear.
Usage of ENACFIRE E18
I really like these earbuds and I think they will be my new daily pair. I'd definitely be using these at the gym and when I'm working out since that's when I most often use them. I also wore these while doing some skipping and they didn't fall out of my ears or move around too much but this is down to choosing the right earbuds so of course, they don't fall out of your ears.
Technology
What's interesting about these wireless earbuds is they are using Bluetooth 5.0 so you're getting the latest Bluetooth technology which even some of the more expensive headphones aren't actually using yet and these come in at a respectable price. So I'm hoping that the quality of them is pretty good.
The Bluetooth connectivity for these seemed pretty good I didn't have any issues with cutting out or them losing connection. I was also able to walk quite a distance from my phone before I started to lose connection.
Conclusion
My overall experience with these earbuds was pretty good. If you are still not decided to buy them, check some reviews on Amazon, they have a really high rating. The only con is that these earbuds are nor waterproof, nor even sweatproof.