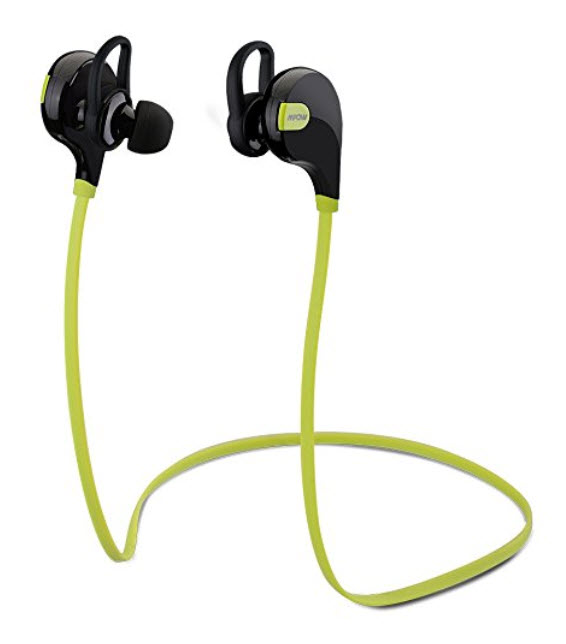 Unlike the other Bluetooth headphones I've tested, these are not waterproof with the IPX7 certificate. They are only sweatproof. But if you search through Amazon store, you can see they are one of the most popular Bluetooth sport headphones. This is the reason I decided to test it for this review.
MPOV SWIFT PACKAGING
The Mpow Swift headphones came with 3 pairs of earbud tips (small, medium and large) and 6 different pairs of stabilizers. This allowed me to test so many combinations that I found the best for me. Even though it takes quite a lot of time, you can be sure you will find the best for you and the Mpow Swift earbuds will stay in place well while running or doing any other intense sport.
A lot of people in their reviews also mentioned the earbuds fits so well, that they completely forgot they have anything in their ears. Like all earbuds don't forget they seal tightly in the inner ear canal and thus it blocks out the external environmental noise. Sometimes this can be helpful, but even dangerous.
The earbuds are connected with a 22-inch long cable and the color of the cable depends on the variant you choose. The Mpow Swift variants are White/Orange, White/Green, and White/Yellow.

CONTROLS
On the right earbud, there is a switch that increases/decreases the volume when pressed. It also changes next/previous track when pressed longer. On the left side, there is a function button that has a lot of functions depending on the long/short/double press.
The Function Button on Mpow Swift
| Mpow Swift State | Function Button | Action |
| --- | --- | --- |
| Turned Off | Hold for few seconds | Turn On |
| Turned Off | Hold for few more seconds | Pairing mode |
| Turned On | Hold for few seconds | Turn Off |
| Receiving call | Press | Answer the call |
| Receiving call | Hold down | End the call |
| Playing music | Press | Pause/Play music |
FEATURES
The Mpow Swift headphones are built with Bluetooth 4.0 connection with aptX codec.
Compatible with most Bluetooth-enabled cell phones.
It uses MPow Signal Enhance Technology – You can put them in a bag at the gym and workout without losing the signal.
Its earbuds seal with unique Cavity Structure Design, which helps you to enjoy your music while running or doing another sport.
Perfect protection system: protected you against sweat and moisture damage.
Is sweatproof (but not waterproof)

PERFORMANCE
Battery
Let's talk about the battery first. It is sufficient. if you use the headphones for 1 hour a day, it will let you charge it once a week – if you use it on your way to/from work. So let's say 5 days if you use it 1 hours a day, which is pretty good. It could be better if it uses a newer version of Bluetooth than 4.0, but this is a standard for this price.
Sound Quality
The Mpow Swift has a precise and secure fit and amazing passive noise cancellation. Trust me if I say that you will not hear anybody with these in your ears, even if you would want. The sound quality at this price point is really great, practically unbeatable. I honestly am not able to think of another earphone that has the same quality sound as this. For any and all gym goers, these are a must. The basses are great, not too loud and highs are not loud at all. The sound is just decent but great.